Reading Time:
6
minutes
There are so many different meditation tools out there, that it can be difficult to navigate. If you clicked through to this post, you might just be wondering what my favorite meditation tools are for 2020. Tools that you can use yourself to get started.
You are feeling stressed out from work or school, and you are at the point where you want to give meditation a try. With all the reported benefits out there of meditation, it's almost impossible to resist giving meditation a try.
If you don't feel like you are getting the hang of meditation, it can be because you don't have the right meditation tools to get started.
There are so many wonderful and excellent meditation tools and aids that will help you get started with meditation or go further into meditation. I have mentioned the mala beads I have and use in my fall nighttime routine article.
Some of my absolute favorite meditation tools are:
Mala beads
Meditation seats
Singing bowls
Meditation books
Meditation apps
And there is so much more out there. Find out what below.
To find out how 10 minutes of meditation can change your life and your mental health, read this article.
Please note, that some of the links in this post are affiliate links and if you go through them to make a purchase I will earn a small commission of no extra cost to you. Keep in mind that I link these companies and their products because of their quality and not because of the commission I receive from your purchases. The decision is yours, and whether or not you decide to buy something is completely up to you.
The best meditation tools for 2020
Number 1: Headspace
I know that there are so many meditation apps out there, but personally, I use the Headspace app. This app is amazing for guided meditations. The Headspace app is a wellness and meditation tool that has lots of both unguided and guided meditations.
I absolutely love that the meditation guides are categorized based on your skill level, activity, or goals. Whether you are a beginner or have practiced meditation for years, Headspace is for everyone. You can also choose if you want to meditate to relieve stress or anxiety. You can choose if you want to prepare mentally for a job interview.
I highly recommend that you start with guided meditations if you have never meditated before. With guided meditation, you focus on a voice guiding you forward, and it will be difficult for you to focus on anything else, as you start to listen. This is a great start for beginners.
The Headspace app lets you sign up for free, but with a subscription, you will have unlimited access to all their classes. It's worth the money in my opinion.
Number 2: mala beads
My personal favorite meditation tool has to be the mala beads I purchased in 2019. I believe that it is one of the best Buddhist meditation tools and aids out there.
Mala beads are used to count breaths or mantra recitations during meditation. It might be a simple piece of meditation tool, but it has helped me take my meditation practice to the next level.
Mala beads mostly have 108 beads, and during meditation, you count the beads from 1 to 108. This will help us know how many breaths we have taken during our meditation.
Having the right meditation tools in your home can make all the difference to your health, happiness, and spiritual development.
In the beginning, I used to sit directly on the floor. I would fidget all the time and be generally uncomfortable. Then I read about meditation seats/cushions and I finally bought one.
It's an amazing aid for when you need extra comfort for your butt. Trust me on this. A meditation seat/cushion can help you find inner calm and stillness.
Personally, I use this meditation cushion from HIGOGOGO in Elephant Black. You can take a look right here.
A meditation singing bowl will produce different sounds, that will invoke a deep state of relaxation. The bowls are used for stress relief, holistic healing, Reiki and chakra balancing.
When you use the singing bowl, the bells cause an immediate centering effect. The tones in the singing bowls are known as a "frequency following response", which are said to create a balancing left/right brain synchronization.
My singing bowl is from Silent Mind. It's a beautiful piece of art and I simply love looking at it. It's also a pretty part of any decoration set up in a home.
Number 5: 5 best meditation books for 2019
"Real Happiness: The Power of Meditation: A 28-Day Program" by Sharon Salzberg contains 12 different meditation practices, including walking meditations, which I have also mentioned in this article.
"Strength in Stillness: The Power of Transcendental Meditation" by Bob Roth explains why should start meditating and what the benefits of meditation are.
"Meditation for Beginners: How to Relieve Stress, Anxiety, and Depression and Return to a State of Inner Peace and Happiness" by Yesena Chavan takes a look a meditation and explains it step-by-step. Meditation becomes easy in this book and guide.
"Meditations from the Mat: Daily Reflections on the Path of Yoga" by Rolf Gates explores yoga as a mindful technique to use for mental health.
"THE HEADSPACE GUIDE TO MEDITATION AND MINDFULNESS" by Andi Puddicombe lets readers know that meditation doesn't have to be difficult or an inconvenience.
Number 6: My 3 favorite meditation apps for 2020
These meditation apps are showing as some of the best apps for meditation and mindfulness on iTunes and Google Play. None of these apps have lower than four stars, which means that they are pretty trustworthy.
As my number 1 favorite meditation tool, I mentioned the Headspace app, as this is my absolutely favorite meditation app.
With these apps, you will find options for customizable meditations, relaxing and soothing background music, inspirational notifications on your phone, and relaxation podcasts. Take a look at each of them and see which one works best for you.
Stop, breathe & think
Price: Free version & 9.99 GBP/month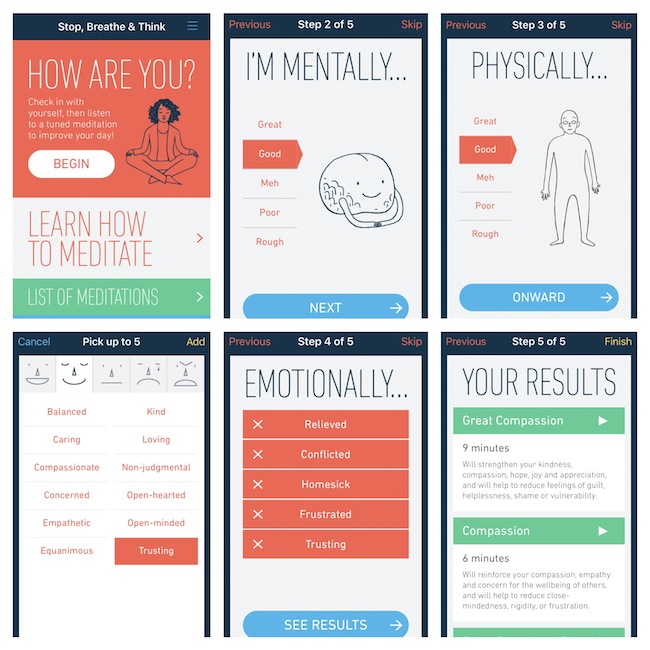 This app is great for teens and young adults. You need to type in your personal information and then fill out how you are feeling physically and mentally and your emotions at the moment. Based on your answers the app will give you different exercises to try out
You can engage in short meditation exercises or gratitude exercises. The app will ask you questions and you will truly notice how you are feeling.
The premium subscription offers more meditations, music, and sounds as well as different mindfulness techniques.
Calm
Price: 30-day free trial ($60 annual subscription)
The calm app has a free trial version that gives you a good idea of what the app has to offer. Once the user has subscribed they get access to the following:
Multi-day meditation programs
The "Daily Calm" meditation
Calm masterclasses
Soothing background senses
Sleep music and sounds
"Calm Body" exercises
The "Breathe Bubble"
The app has a beautiful, relaxing design with a serene blue background screen. You are asked to select areas you want to focus on, such as productivity, sleep, anxiety, or gratitude.
The app has a simple, clean layout that is easy to use and follow. You can choose from several different meditation programs, calm masterclasses, scenes, sleep programs, music selection, calm body programs and breathe programs.
Personally, I absolutely love this app. It's beautifully designed and already gives you a calmer feeling as soon as you log in. To me, it was definitely worth the price, once my free trial was over.
What meditation tools do you use in your home? Let me know in the comments below…
Did you find this article helpful or inspirational? Please share and save it on Pinterest and share it with your friends.
Referred content…
My top 6 favorite meditation tools for 2020